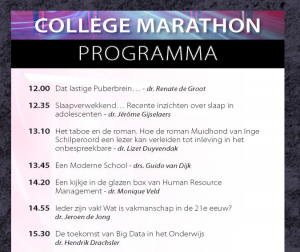 Het deur van het huis is weer dicht en de Serious Request actie in Heerlen is van start gegaan. Bij deze willen we jullie ook wijzen op een actie van de collega's van de Open Universiteit. Hieronder staat de officiële info en het programma. Je kunt de actie sponsoren, live gaan kijken in Heerlen of online meekijken via https://www.ou.nl/srq
Niet alleen een sympathieke actie voor een goed doel, maar natuurlijk ook een die de mooie vraag oproept of de sprekers er op deze manier in slagen om aan een grote groep geïnteresseerden te laten zien hoe toegankelijk wetenschap kan zijn.  Zoals je aan het programma kunt zien is de variatie in onderwerpen in ieder geval groot genoeg.
(p.s. ik ben op geen enkele manier bij de college marathon betrokken, ik maak er alleen wat extra reclame voor)
Serious Request – College Marathon Open Universiteit
Waar: Bongerd, Heerlen
Wanneer:  woensdag 23 december 2015
Tijd: van 12.00 uur tot 24.00 uur
Wat: bekijk het programma of download de flyer
Hoe: sponsor deze actie
Speciaal voor Serious Request organiseren wij op 23 december 2015 een 12-uur durende College Marathon van 12 tot 24 uur. 24 bevlogen sprekers geven minicolleges. Elk half uur een ander onderwerp dat tot de verbeelding spreekt. Wij laten zien hoe toegankelijk wetenschap kan zijn. En daarom kan iedereen erbij zijn! Je kunt een of meerdere colleges volgen op de 5e etage van het enige echte glazen huis van Heerlen: SCHUNCK* Glaspaleis! Of volg de marathon online live. Steun jij onze sprekers? Steun je ons initiatief? Sponsor deze actie die geheel ten goede komt aan Serious Request. Tot dan!