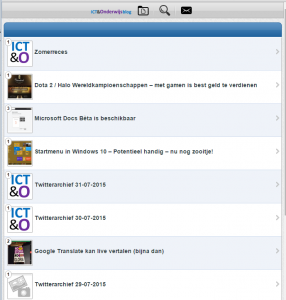 Het bijna einde van ook mijn vakantie vandaag maar even aangegrepen om ook hier een nieuwe/andere plugin te installeren voor de mobiele pagina's van dit weblog. Daarmee geef ik dan meteen antwoord op een vraag via de mail die nog open stond (sorry voor de late reactie!).
Tot nu maakte ik gebruik van een betaalde licentie van WPTouch. Maar het bedrijf achter de pluging was van mening dat gebruikers maar moesten overstappen op de nieuwe versie van hun plugin (de oude deed het probleemloos) en dan ook maar gewoon flink meer moesten betalen voor een nieuwe licentie. Nou vind ik betalen voor functionaliteit niet erg, maar als ik op deze manier 'gedwongen' wordt opnieuw geld uit te geven als ik dat niet weet bij het aanschaffen én de nieuwe functionaliteit niet nodig heb, dan bala ik daarvan. Het blijven gebruiken van de oude versie was niet mogelijk omdat ook het licentiesysteem voor die versie uit de lucht gehaald was.
Dus op zoek naar een andere versie. Daarbij ben ik uiteindelijk uitgekomen bij WP Mobile Edition. Het is een gratis plugin, die eigenlijk niet heel veel opties heeft. Van de verschillende templates die voor zouden komen is er pas één beschikbaar, en volgens mij is dat ook al een tijd zo. Maar van de andere kant, doet de plugin wat het moet doen: het geeft een mobile template weer voor mobiele apparaten en de gewone template voor de anderen.
Daarbij heeft het een feature die ik eigenlijk noodzakelijk vind voor zulke thema's: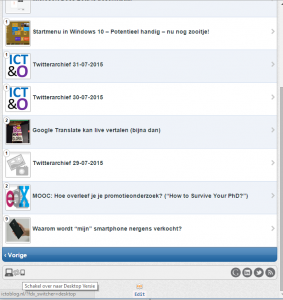 De optie om ten alle tijden zelf te beslissen of je de desktopversie of de mobiele versie wilt zien. Zit ik op een langzame verbinding op een tablet, dan werkt de mobiele versie prima, anders wil ik wellicht de desktopversie. Standaard kiest de plugin voor je, maar schakelen kan altijd.
Voor nu doe ik het hier even mee, visueel ziet het er wat mij betreft goed genoeg uit, en Google is er tevreden mee.