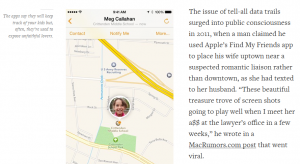 Ik weet het niet hoor. Ik zal vast gewoon te braaf zijn, of te loyaal, of ik hou gewoon te veel van mijn partner. Maar ik had wat problemen om het echte probleem in het artikel "Divorce, Data Style" (oorspronkelijke titel was blijkbaar "Divorced by data") te zien.
Het is niet écht een sensatie-artikel, een beetje wellicht. Het gaat over de grotere rol die ict, en dan met name gps speelt bij het vaststellen dat of aantonen dat een partner een relatie met een ander heeft.
Het artikel geeft heel terecht aan dat áls de ander de beschikbare technologische hulpmiddelen inzet die in het artikel genoemd worden, er natuurlijk hoe dan ook al iets mis is met de vertrouwensband tussen twee mensen.
En daarom zie ik ook niet echt het probleem van het gegeven dat er nu meer manieren zijn om er achter te komen dat iemand ontrouw is. Dat de verkeerde foto's in de shared fotostream van de familie terecht komen is natuurlijk pijnlijk. Maar is zou eigenlijk haast zeggen dat het goed is dat het met de moderne technologie dan eerder ontdekt kan worden dan vroeger.
Want de stelregel is toch eigenlijk heel simpel: maak geen foto's waarvan je niet zou willen dat je partner ze ziet, doe geen dingen met iemand anders waarvan je niet zou willen dat je partner dat weet.
Uitzondering is natuurlijk als je een verrassingsweekendje weg voor twee aan het organiseren bent. Dan moet je je fitnesstracker en smartphone thuis laten! 😉