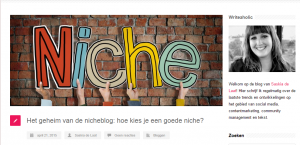 Ik had hem gemist als onderwerp van de blogpraat van 20 april, maar de blogpost van Saskia de Laat bevat het woord "Fontys" en dan komt hij vroeger of later automatisch in Feedly terecht. Het onderwerp: nicheblogs of niche blog, een term die (uiteraard?) niet nieuw is, maar door Saskia duidelijk omschreven en toegelicht wordt. Daarom even een link.
Persoonlijk vind ik het "geld verdienen met" aspect van een nicheblog wel een ingewikkelde. Het kan zeker, ik denk dat bv DC Rainmaker daar wat mij betreft een goed voorbeeld van is. Al is het daar weer zo dat de links die hij biedt en waar hij geld mee zou kunnen verdienen vanwege het internationale karakter van zijn site voor mij niet bruikbaar zijn (of handig zijn) en ik toch weer niet rechtstreeks bijdraag aan het verdienen via zijn site.
Maar stel dat ik op de site van Saskia kom en haar als blogger nog helemaal niet ken, dan weet ik niet of ik niet zou denken "oh, dit is er eentje die alleen schrijft over een onderwerp om er geld mee te verdienen". Ze zegt zelf "focus je niet teveel op bezoekersaantallen" en dat is verstandig advies. Datzelfde lijkt me ook te gelden voor de inkomsten. Als je een goed nicheblog hebt, dan kun je daar zeker inkomsten mee genereren, maar ga er niet aan een beginnen in de hoop over een paar maanden je (bij-)baan op te kunnen zeggen.