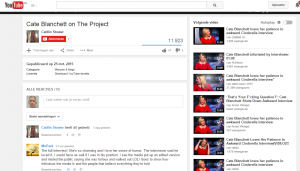 Ik had het bericht gisteren voorbij zien komen, maar er niet veel aandacht aan gegeven: Cate Blanchett zou haar cool verloren hebben bij een interview over haar nieuwe film. Ik had de clip die er bij hoorde toen niet gezien, maar het was deze. Oef.
Nu, een dag later kwam ik het bericht tegen dat de clip, die ruim gedeeld is op YouTube (zie hiernaast, de vraag of dat mag laat ik even in het midden), een bewuste edit was van het volledige interview:
Helemaal een moeilijk lopend interview, juist heel grappig. Maar met wat slim knippen en een clipje van een eerder "incident" kun je er heel wat van maken.
Natuurlijk, als je cynisch of achterdochtig genoeg bent, dan kun je nog gaan denken over de vraag "is dit allemaal door de mensen achter Cinderella verzonnen om meer aandacht voor de film te krijgen?", immers, er wordt nu 2 dagen lang heel veel aandacht aan besteedt. Dat zal niet slecht voor de bezoekcijfers zijn. Dat doet er voor mijn verhaal niet zo heel veel toe, het gaat even om het voorbeeld van het tamelijk eenvoudig kunnen opknippen van één video om er een heel ander verhaal mee te vertellen.
En nu? Geen opnames van je lessen laten maken helpt denk ik dan niet. Een verborgen filmpje is ook zo gemaakt. Het is wel, lijkt mij, belangrijk dat een onderwijsinstelling zorgt voor een veilige werkomgeving. D.w.z. zorgen dat een docent er op kan vertrouwen dat áls zoiets gebeurt, er op de juiste manier opgetreden wordt (maar wel proportioneel natuurlijk). En preventief kun je daar ook e.e.a. aan doen lijkt me. Snappen dat zoiets "not done" is, is ook onderdeel van het mediawijs worden van studenten en leerlingen.