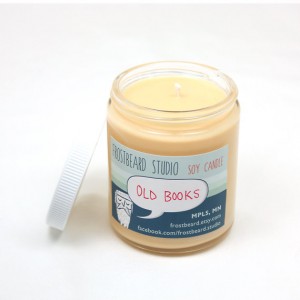 Ik kende de spuitbussen met "boekengeur", maar de kaarsen kende ik nog niet. Bij Etsy in de VS kun je ze kopen. Ze hebben verschillende soorten, waaronder deze "Old Books" kaars.
Part of our Book Lovers' Series, this candle is a completely original scent inspired by the smell of old books! Ideal for bibliophiles of all sorts. The scent is a sweet, earthy smell with a hint of must. (Not mildewy, rotten old books!) It will make you want to curl up with your favorite Classic.
Het is een niet al te goedkoop cadeautje (voor jezelf of iemand anders). De kaarsen kosten €11,07 per stuk, maar bij aanschaf van één kaars komt daar nog eens €14,- aan verzendkosten naar Nederland bij. Koop je een voordeelbundel van drie (bijvoorbeeld ook met Book Cellar, Bookstore, Dumbledore's Office, Gryffindor, of Oxford Library geur) kaarsen voor €50,- inclusief verzendkosten.
Iets voor die collega die alles al heeft? Wellicht net wat kort dag voor Moederdag helaas. 😉
(via pfsk)