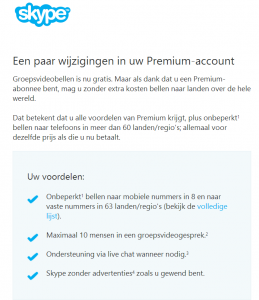 Toen ik schreef dat videobellen met meerdere gebruikers nu bij Skype voor iedereen gratis geworden is, ging ik er nog vanuit dat mijn tijdelijk gratis videobellen abonnement niet zou tellen als een Skype Premium abonnement. Blijkbaar is dat wel zo, want ik kreeg een mail dat mijn Skype Premium account zou wordne omgezet naar een account waarbij ik onbeperkt* zou kunnen bellen naar telefoons in maar dan 60 landen/regio's (voor dezelfde prijs die ik nu betaal = niets).
Dat betekent gratis bellen naar vaste lijnen en mobiele nummers in: Canada, China, Guam, Hong Kong SAR, Puerto Rico, Singapore, Thailand, en de VS. En gratis bellen naar vaste nummers in o.a. Nederland, België, het Verenigd Koninkrijk, Duitsland en een paar andere (sorry, was te lui om ze allemaal van Engels naar Nederlands te vertalen):
Andorra, Argentina, Australia, Austria, Belgium, Brazil, Brunei, Bulgaria, Chile, Colombia (excluding rural areas – LEX), Costa Rica, Croatia, Czech Republic, Denmark, Estonia, Finland, France, Germany, Greece, Guadeloupe, Hungary, Iceland, Indonesia (Jakarta only), Republic of Ireland, Israel, Italy, Japan, Korea, Latvia, Lithuania, Luxembourg, Malaysia, Malta, Mexico, Morocco, Netherlands, New Zealand, Norway, Panama, Paraguay, Peru, Poland, Portugal, Romania, Russia, Slovakia, Slovenia, South Africa, Spain, Sweden, Switzerland, Taiwan, Turkey, United Kingdom, and Venezuela.
Leuk, zeker omdat ik er niets voor betaal.
Lees verder….