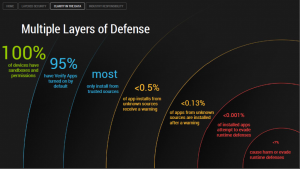 Als je berichten een beetje volgt, dan zou je er serieus bang van worden: "Mobile malware, mainly aimed at Android devices, jumps 614% in a year" of "79% of Mobile Malware Targets Android" of "Mobile malware increased by 163% in 2012; 95% aimed at Android". De getallen variëren een beetje, maar het verhaal is duidelijk: de hoeveelheid "malware" ("malicious software" of kwaadaardige en/of schadelijke software) gericht op mobiele apparaten neemt snel toe. En het grootste deel daarvan is gericht op Android.
O jee, is Android onveilig? Ben je een oen als je er iets serieus op wilt doen (je bankzaken bijhouden?) of als je er belangrijke informatie (wachtwoorden / credit card gegevens) in opslaat?
Nee, dat ben je niet.
Of Android veiliger is dan iOS op de iPhone/iPad, dat laat ik even aan de bobo's over om te bediscussiëren. Maar als de cijfers van Adrian Ludwig, Android Security chief bij Google, ook maar enigszins, dan is het risico dat je loopt op het krijgen van malware tamelijk klein: slecht 0,001% (één duizendste procent) van alle installaties van applicaties op Android zijn in staat om de verschillende (uit meer lagen) bestaande beveiligingen op Android te omzeilen. Nou kun je zeggen: "ja, maar er worden heel veel applicaties geïnstalleerd op Android!". Klopt, maar hoeveel installeer jij er zelf? In een week, een maand, een paar jaar?
Zijn dat er 200? 2.000? Stel dat het er 2.000 zijn, dan heb je nog maar 2% kans gehad op een kwaadaardige applicatie op je smartphone. De kans dat je je telefoon in die tijd uit je handen laat vallen en hij zo kapot valt is waarschijnlijk een stuk groter.
Dus maak je niet te veel zorgen en gebruik je gezond verstand. Of dat nou op Android, Windows Phone of iOS is!
(via Qz.com en pocketnow.com)