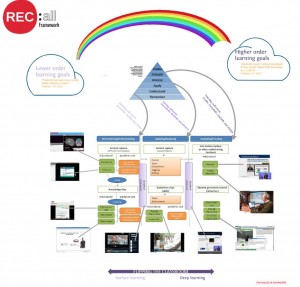 Aanstaande woensdag, 9 oktober 2013 organiseren SURFacademy samen met SURFmarket en de SIG Webstroom een seminar over de vraag hoe docenten interactie met hun studenten kunnen opbouwen tijdens hoorcolleges, en wat de didactische meerwaarde is van interactieve live webinars.
Het programma ziet er als volgt uit:
12:30 Ontvangst met koffie/thee (geen lunch!)
13.00 De meerwaarde van interactieve live webinars in een blended learning omgeving – Marijke Leijdekkers (VU)
13.35 De rol van interactieve live webinars in het iStar concept – Bob van den Brand (Tilburg University)
14.10 Kennisdelen, communiceren en leren zonder grenzen – Jan Roggeveen (Cisco Collaboration Public Sector)
14.30 Interactie opbouwen met studenten tijdens hoorcolleges – Ruud Sneep (Tilburg University)
15.00 Interaction in the classroom – Neek Kurat (Presentain)
15.15 Interactieve live webinars via Presentations 2Go – Michaël Hegeman (Learning Valley)
15.30 Pauze
15.45 Experience-deel
17.00 Afsluiting en aansluitend borrel
17:30 Einde seminar
De bijeenkomst richt zich op onderwijsadviseurs, AV- en technische stafleden, ICTO-contactpersonen en docenten uit het hoger onderwijs.
Let op! De bijeenkomst wordt op 2 locaties georganiseerd! Dat betekent dat je kunt kiezen of je in Utrecht bij SURFnet (loopafstand van de trein) of in Tilburg bij de Universiteit van Tilburg (heet tegenwoordig heel duur Tilburg University) aan de bijeenkomst wilt deelnemen. Beide locaties zijn met een videoverbinding met elkaar verbonden. Deelname is gratis voor SURFnet klanten. En er zijn op beide locaties nog plaatsen beschikbaar.
Inschrijven kan via deze pagina, meer informatie over de sprekers kun je op deze pagina vinden.
Ik zal het zelf met de opnames moeten doen, ik begeleid 's ochtends een workshop in Eindhoven en 's middags in Sittard. Moet dus gewoon werken. 🙂