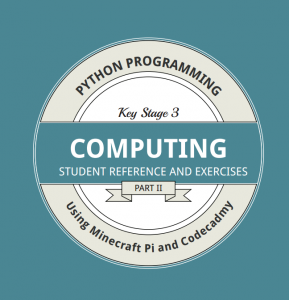 Ik heb thuis de Raspberry Pi's nog niet hoeven te verstoppen voor de kinderen. Ook niet sinds het mogelijk is om Minecraft op de Raspberry Pi te spelen. Aan de versie op de Windows laptop hebben ze nog steeds meer dan genoeg uitdaging, zeker omdat er regelmatig nieuwe versies en mods beschikbaar komen zoals de Lord of The Rings Mod.
Maar…stel nou dat je zou willen leren programmeren in Python (het zou niet mijn eerste keuze zijn, maar goed), dan zou je dat bijvoorbeeld via codecademy.com kunnen doen. Wil je echter 'leukere' voorbeelden / opdrachten hebben om gebruik van te maken (iets meer dan 'hello earth'), dan is Minecraft natuurlijk wel een coole omgeving om het programmeren in te leren. En dat kan heel goed met de gratis Raspberry Pi versie van Minecraft.
Craig Richardson heeft een (gratis) studentenhandleiding gemaakt en een bijbehorende docentenhandleiding die studenten zelfstandig kunnen doorwerken, maar ook ingezet kunnen worden bij lessen in school. Je kunt het geheel hier vinden. Mooi.
Ik zie overigens dat het gebruik van de Raspberry Pi als server voor Minecraft inmiddels ook goed werkt. Kijk, dat hebben zijn vriendjes nog niet: een eigen draagbare Minecraft server die bijna niets kost. Eens kijken of het ingewikkeld is om te installeren…. 😉