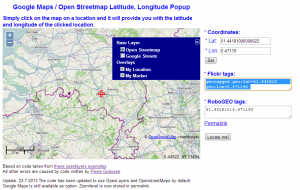 Het is/was een pagina waarvan ik in 2007 al schreef "een handig script van vroeger". Maar ik wist dat er toch nog redelijk wat mensen waren die gebruik maakten van de mogelijkheid om op de kaart op te zoeken wat de coördinaten van een locatie op Google Maps was en er dan naar te linken (ook al verwacht ik niet dat iemand ooit nog de Flickr optie gebruikt waar ik hem eigenlijk voor gebouwd had).
Van tijd tot tijd krijg ik mailtjes met de vraag of de code hergebruikt mag worden (natuurlijk, gewoon even in de bron van de pagina kijken en je hebt alles wat je nodig hebt). Maar echt veel andere plannen voor uitbreiding had ik al een tijdje niet. Wel ging ik er vanuit dat ik er *iets* aan moest doen want Google had al in mei 2010 de versie 2 van hun Maps API als "depricated" betiteld en vanaf a.s. november zou hij nu toch echt uitgeschakeld worden. Ze zouden dan wel een "wrapper" aanleveren die mogelijk de pagina toch werkend zou moeten houden, maar dat leek me ook niet ideaal.
Daar kwam bij dat ik hier en daar gelezen had over de grenzen die Google inmiddels gesteld heeft aan het gratis gebruik van Google Maps, dus wilde ik ook wel eens kijken of Open Streetmap geen goed alternatief was voor deze pagina.
Het weergeven van een Open Streetmap kaart in een webpagina is op zichzelf niet zo'n uitdaging, maar ik moest wat langer zoeken om te achterhalen hoe ik er dan ook de dingen mee kon doen die ik bij het oorspronkelijke Google Maps script ook kon: tonen van een marker als je ergens op de kaart klikt en het weergeven van de coördinaten van die plek in een permalink + in de velden naast de kaart. Daarnaast had ik van iemand de vraag gekregen of ik ook kon weergeven wat de schaal van de kaart was als je op een willekeurig niveau ingezoomd was.
Lees verder….