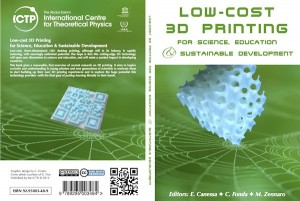 Via de heel actieve 3D printers and printing NL community op Google+ werd ik gewezen op het gratis e-boek "Low-cost 3D Printing for Science, Education and Sustainable Development".
Het is een PDF, die in zijn light-versie 10MB en in zijn heavy-versie 150MB groot is. Het boek bestaat uit zo'n 20 hoofdstukken en 202 pagina's. De hoofdstukken zijn in vier groepen ingedeeld:
Low-cost 3D Printing
Low-cost 3D Printing for Science
Low-cost 3D Printing for Education
Low-cost 3D Printing for Sustainable Development
Elk hoofdstuk is zelfstandig door een andere auteur geschreven. En, zoals in zo'n geval vaker gebeurt, dat merk je in het gebrek van verwijzingen tussen de hoofdstukken en de mate van overlap en onafhankelijk van elkaar toelichten van bepaalde termen, software pakketten en technieken.
Maar, dit is geen duur boek van een uitgever, dit is een gratis boek met een creative commons licentie die verspreiden en eenvoudig hergebruik mogelijk maakt. Dan is zoiets vergeven. Meestal, want de hoofdstukken '3D Modeling with OpenSCAD – Part 1″ en "3D Modeling with OpenSCAD – Part 2", geschreven door twee verschillende auteurs, hadden gewoon samengevoegd moeten worde.
Ik heb bij hieronder bij de hoofdstukken opgeschreven wat me opviel of waarom het hoofdstuk de moeite van het lezen waard is. Soms beknopt, soms meer  uitgebreid.
Lees verder….