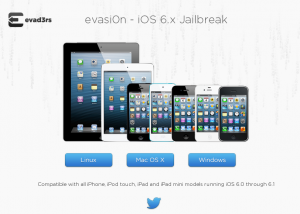 Het kan je bijna niet ontgaan zijn: vandaag is eindelijk de jailbreak voor iOS 6.x beschikbaar gekomen. Voor 6.0 was er nog geen 'untethered' jailbreak, nu is die er voor iOS 6.1 wel.
Je kunt hem hier downloaden en (o.a.) op deze website staat een stap voor stap uitleg.
Ik wacht nog even een dag of zo, gewoon om te zien of hij ook 'in het wild' zonder problemen werkt. Want ik weet uit ervaring dat ook bij het uitgebreid testen vooraf (in kleine kring) er vaak/altijd nog wel een paar foutjes tussendoor glippen.
Waarom ik jailbreak? Eigenlijk nog vooral om één reden: iFile. Daarmee kan ik bestanden van een USB-stick zonder problemen op de iPad zetten. Ideaal als je video's wilt bekijken op de iPad en die niet via Wifi wilt overzetten.
Nog een reden om te wachten: Cydia ligt er op het moment uit vanwege de grote belangstelling. Als ik de jailbreak uitgevoerd heb, bericht ik daar uiteraard weer hier over.