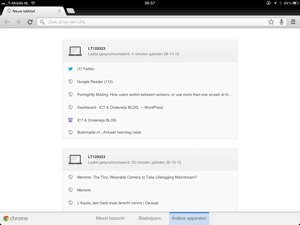 Nee, dit is geen bericht over het gebruik van meerdere monitoren. Het gaat om een presentatie van Google over het gebruik van meerdere monitoren op (verschillende) apparaten, zoals bijvoorbeeld een laptop, een smartphone of een tablet. Achterliggende boodschap is dat mensen soms meerdere schermen tegelijkertijd gebruiken (bijvoorbeeld als tweede scherm tijdens het TV-kijken), en soms 'na elkaar' gebruiken (bijvoorbeeld om eerst iets op te zoeken op een smartphone en daarna verder te zoeken op een tablet of laptop). De reden waarom dat relevant is voor eigenaren van websites is dat zij niet langer moeten denken in print, TV, online, maar dat ze zich moeten realiseren dat gebruikers gelijktijdig via meerdere apparaten in contact kunnen komen met hun diensten en producten.
Net als Seb Schmoller (waar ik het bericht tegen kwam), herken ik mijn eigen mediagebruik heel erg in dit verhaal. TV kijken, maar ook een film of serie kijken doe ik bijna nooit zonder iPad op de schoot. En regelmatig zoek ik dan wat op, een land/stad die voorbij komt, of ik laat Shazam een audiotrack herkennen die ik hoor. De enkele keer dat ik live TV kijk is Twitter een gezellig kanaal ernaast etc.
En ook bij het zoeken voor aankopen schakel ik vaak tussen de apparaten. Ik zoek vaak dingen op, op mijn iPhone of de iPad, maar heb er een voorkeur voor om het daadwerkelijke bestellen via mijn laptop te doen. Het toetsenbord zorgt er toch voor dat ik net wat zekerder ben van het niet maken van typefouten bij het invullen van adresinformatie en het online betalen met iDeal gaat dan gegarandeerd goed.
Lees verder….