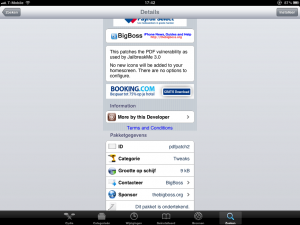 Het was iets wat ik me gisteren af vroeg toen bekend werd dat het via JailbreakMe.com mogelijk werd om je iPad 1 of iPad 2 te jailbreaken: is dat nou iets waar we blij mee moeten zijn of juist heel erg bezorgd?
Kijk, jailbreaken zelf vind ik prima, handig en er zijn nog steeds dingen (ook na iOS 5) die ik alleen kan met een jailbreak. Maar een jailbreak uitvoeren op basis van Redsn0w is één ding. Daarvan is het duidelijk dat ik fysiek toegang tot mijn apparaat moet hebben om de jailbreak uit te voeren. Dat kunnen dus ook fouten/kwetsbaarheden zijn die voor anderen, zonder die fysieke toegang tot mijn apparaat niet te misbruiken zijn.
Maar de jailbreak via JailBreakMe.com doet dat niet. Die vindt via het netwerk ("over the air" klinkt veel mooier) plaats. En maakt gebruik van een kwetsbaarheid in het weergeven van PDF's binnen Safari binnen iOS 4.3.3.
Dat is een kwetsbaarheid die nu gebruikt wordt voor iets nuttigs, maar die dus ook gebruikt zou kunnen worden voor minder fijne zaken. Hoe lang dus totdat iemand daar een virus of worm mee weet te verspreiden via iPhones en iPads?
Het zal, neem ik aan, daarom ook niet lang duren voordat Apple met een versie 4.3.4 van iOS uit komt. Maar tot die tijd blijft die kwetsbaarheid beschikbaar.
Behalve…als je een jailbreak uitvoert. Dan kun je nu meteen al het gratis PDF Patcher 2 downloaden en installeren. Vanuit Cydia uiteraard. En dan heb je dus al meteen geen last meer van de kwetsbaarheid.
Dus…een kwetsbaarheid maakt het mogelijk om te jailbreaken. Doordat die kwetsbaarheid nu geen geheim meer is, bestaat de kans dat er misbruik van gemaakt wordt. Dat zou een reden zijn om jailbreaken als iets slechts af te spiegelen. Maar die jailbreak community is ook heel snel met het gratis beschikbaar stellen van de oplossing voor de kwetsbaarheid. Veel sneller nog dan de leverancier zelf dat doet (kan doen?). En dat is natuurlijk juist weer een sterk punt van jailbreaken.
Het wordt er niet overzichtelijker op zo.