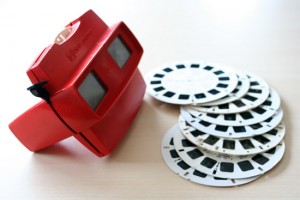 Als je wat ouder wordt heb je soms van die "o ja, net zoals vroeger…" momenten. Dat had ik dus ook toen ik het bericht las dat Hasbro een MY3D viewer. Het deed me namelijk meteen terug denken aan de Viewmaster waar wij er in ieder geval ook minimaal één van in huis hadden toen ik klein was. Alleen, waar je in de MY3D viewer een iPod Touch of een iPhone moet gebruiken (er in moet stoppen ) om 3D beelden te zien, gebruikte je bij de Viewmaster van die ronde schijven met dia's die in het apparaat gingen. Magisch gewoon. Indertijd dan.
Officieel bestaat de Viewmaster nog steeds en zou je ze dus zelfs nieuw moeten kunnen kopen met Dora, Toy Story of Cars plaatjes, maar als ik de Nederlandse Viewmaster website mag geloven is het toch wel tamelijk moeilijk om aan nieuwe exemplaren te komen hier in Nederland.
Dan allemaal maar aan de MY3D viewer? Nou, ik weet het nog niet. Jammer vind ik dat in het lijstje gratis applicaties voor op de iPhone / iPod Touch (nog?) geen enkele applicatie staat waar je je eigen foto's in kunt laden. Dan had het apparaat denk ik al meteen een breder gebruiksveld. De Nederlandse Vereniging voor Stereofotografie zou het apparaat dan ongetwijfeld omarmen.
Of het een hit gaat worden weet ik dan ook nog niet. De prijs is met zo'n $35 best schappelijk, maar zoals iedereen weet inmiddels: het gaat niet alleen om het apparaat, je moet content hebben!