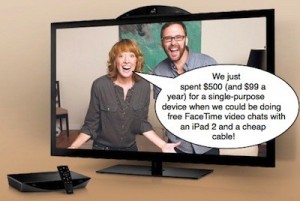 Er zijn nog mensen die zich afvragen of ik een iPad 2 ga aanschaffen als hij beschikbaar komt, maar dat zijn er niet veel meer. Daar is de stroom "kijk wat je er ook mee kunt doen" berichten nou eenmaal te groot voor. Zo ook vandaag weer. Het blijkt namelijk dat FaceTime, het programma van Apple voor videoconferencing op de Mac, iPhone 4 en de iPad 2 ook ondersteuning heeft voor de Dock->HDMI kabel die je voor de iPad 2 kunt aanschaffen. Dat betekent dat je de iPad ook aan een TV aan kunt sluiten voor nog groter beeld.
Nou wordt in het bericht op the Unofficial Apple Weblog dat daarmee dure systemen zoals van Cisco uit de markt geprijsd worden. Dat is natuurlijk niet helemaal zo. De camera van de iPad aan de voorkant is slechts VGA en heeft geen analoge zoom. Ook lijkt me dat je via een draadloos systeem wat vaker bandbreedte problemen zult hebben dan wanneer het videoconferencingsysteem aan een bekabeld netwerk hangt.
Maar inderdaad, het zal voor veel mensen uiteraard veel goedkoper zijn om, naast de iPad 2, een kabeltje van zo'n 30-40 dollar te kopen dan om een thuis een videoconferencingsysteem neer te zetten. Al blijft voor mij nog steeds dat ik het meest videoconference via Skype en het wachten is wat mij betreft dan ook nog steeds op hun iPad 2 versie.
(getipt door TUAW via iCreate Magazine)