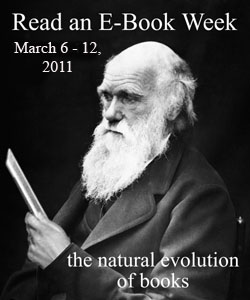 De kans is groot dat je er niet veel meer van zult horen dan dit bericht, maar het is deze week (van 6 t/m 12 maart) net als vorig jaar weer "read an e-book week", door mij gewoon maar even vertaald als "e-boekenweek".
Op Books on The Knob kun je een lijstje vinden van sites die met acties mee doen aan deze week waardoor je daar goedkoop of gratis elektronische boeken zou kunnen downloaden. Ik moet zeggen dat het aanbod nou niet echt geweldig is vergeleken met anders.
En meer nog dan vorig jaar vraag ik me het nut van zo'n enkele week extra aandacht af. Elektronische boeken staan volop in de belangstelling elke week weer. Niet altijd "positief", het is inmiddels een industrie geworden die dezelfde groeipijnen voelt als de muziekindustrie en de filmindustrie. Discussies over de prijsstelling voor elektronische boeken die door bibliotheken beschikbaar gesteld worden, agency prijsmodellen (waarbij de uitgever de prijs bepaald) zijn in Australië blijkbaar niet toegestaan, in de VS heel gebruikelijk (zelfs Amazon moest er in mee) en in Frankrijk zijn ze het al in wetten aan het gieten.
Lees verder….