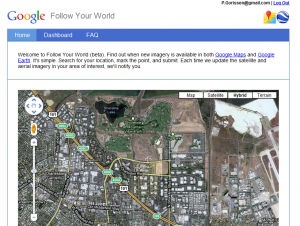 Ik weet niet hoe jij er over denkt, maar ik vind het wel leuk dat Google ook heel Nederland op de (foto-)kaart gezet heeft.
Ik vind het ook interessant om te weten of er nieuwe, betere, foto's van mijn dorpje beschikbaar zijn. Niet omdat ik niet weet hoe mijn dorp er uit ziet, maar gewoon als beeld van de ontwikkeling van Google Earth en Google Maps. Maar ik heb niet echt zin om dat zelf in de gaten te gaan houden. En dat hoeft nou ook niet meer van Google. Ze hebben namelijk de site Follow Your World opgezet. Daar kun je een plek of meerdere plekken op de kaart selecteren en zodra daar nieuw fotomateriaal voor komt, krijg je automatisch een bericht in je mailbox.
Het zal geen wekelijkse of maandelijkse mail zijn, zo vaak worden die foto's niet bijgewerkt. En daarom heel handig wat mij betreft.
(Getipt door Google Earth Blog)