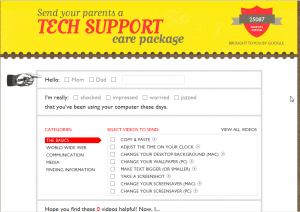 Het idee achter Teach Parents Tech is ongetwijfeld ludiek. Maar ik vond het introductiefilmpje nogal lomp. Zeker in het kader van dit verhaal dat nog maar een illustreert dat computers gewoon rare dingen zijn die rage hersenkronkels vereisen om "logisch" gevonden te worden.
Ik zou zeggen, wees blij dat ze je om hulp vragen.
Toch is de site niet alleen maar flauw. Ik heb niet alle filmpjes bekeken, maar de paar die ik gezien heb waren op zich praktisch en waarschijnlijk zeker handig voor beginnende computergebruikers. Nu is het dus een beetje de vraag of die wel bereikt worden met de site of dat die zich vooral beledigd voelen door de belerende boodschap achter de intro.