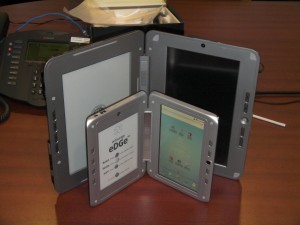 Hij was een paar dagen geleden al op de foto gezet met de enige echte Terminator, maar The Digital Reader heeft nu ook de officiële bevestiging dat er een kleine uitvoering van de Entourage eDGe aan zit te komen. In plaats van twee schermen van 10 inch (9,7 voor de eInk en 10,1 voor de LCD) heeft de Pocket eDGe een eInk scherm van 6 inch en een LCD scherm van 7 inch. Kleiner, compacter en lichter. Dat is goed nieuws, want vergeleken met een Kindle of een iPad is de Entourage eDGe nogal lomp.
De webcam is van rechts naar links verplaatst en dat is handig. Bij het opnemen zie je het beeld namelijk op het LCD scherm. Als je nou iets wilt opnemen dat voor je staat (de docent bijvoorbeeld), dan gaat dat bij de Entourage eDGe niet goed, dan moet je namelijk LCD-scherm én camera van je af richten (en zie je niet meer waar je mikt). Met de Pocket eDGe kun je het eInk scherm omklappen en kun je op het LCD scherm gewoon zien wat je opneemt.
Het is jammer dat de SD-kaart vervangen is door een Micro-SDHC kaart, ik snap dat het praktischer is vanwege de beperktere ruimte, maar SD-kaarten zijn nog een stuk gangbaarder. Je moet daarnaast ook één USB-poort inleveren. De overige specificaties zijn blijkbaar gelijk gebleven.
In de VS komen er twee modellen; eentje met alleen WiFi en de andere ook met 3G en dan een abonnement. Er is nog niets bekend over de exacte prijzen en of deze ook naar Nederland komt. De verwachting is dat de Pocket eDGe er eind volgende maand is.
Ik ben benieuwd hoe hij ontvangen wordt. Persoonlijk vind ik het wel jammer dat het scherm kleiner geworden is. Ik vind 10 inch bij het lezen van documenten toch wel zo prettig. We zullen zien.
(foto door: The Digital Reader)