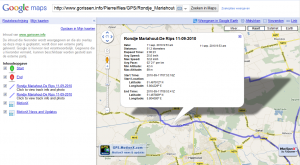 [UPDATE] De informatie in dit bericht is helaas achterhaald omdat Google de werking van Maps heeft aangepast. DIT WERKT DUS NIET MEER!
GOOGLE CHANGED MAPS AND THIS NO LONGER WORKS. AFAIK IT IS NO LONGER POSSIBLE AT ALL. I USE OSM INSTEAD
Het is iets dat vast al heel lang kan, ik gebruikte het ongemerkt zelf al een tijdje via de links die MotionX GPS uitstuurt, maar ik had nog niet de moeite genomen om te kijken hoe zij er voor zorgden dat de tracks die ik met het programma bijhield op Google Maps te zien waren.
Dat was met name relevant geworden omdat de links van MotionX blijkbaar niet onbeperkt door hen gehost worden. Ik wilde het dus zelf kunnen. Tot nu toe had ik tracks die ik als GPX-bestand of KMZ/KML-bestand had wel vaker weergegeven op Google Maps. Door ze te importeren in de "Mijn kaarten" feature (zoals hier). Maar die stap is blijkbaar inmiddels overbodig. Het principe blijkt heel simpel:
#1 Maak een GPX of KMZ-bestand dat je wilt weergeven op Google Maps (of gebruik een bestand dat door je tracking-software wordt gemaakt)
#2 Geef het bestand een naam *zonder* spaties (met spaties bleek bij mij niet te werken)
#3 Plaats het bestand op een webserver waar het voor Google en anderen te bereiken is
#4 Open Google Maps
#5 Plak de volledige URL van het bestand in de zoeken balk en druk op ENTER.
De informatie in het GPX-bestand of KMZ-bestand wordt nu automatisch op Google Maps weergegeven. Via "Link" optie rechtsboven kun je ook een embedcode genereren:

Grotere kaart weergeven
Let op! Als je het gebruik van korte links ingeschakeld hebt in Google Maps Labs, zie je de optie voor het maken van een embedcode niet.
Ik vind de optie handig omdat ik de GPX en KMZ-bestanden nu zelf op mijn server kan bewaren, het niet nodig is ze allemaal te importeren in "Mijn Kaarten" en ik ook nog een eenvoudige verwijzing naar het bronbestand heb voor als iemand anders dat wil hebben.