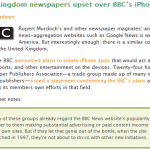 Als je dit weblog regelmatig leest dan zul je weten dat ik absoluut fan ben van de initiatieven die onze publieke omroepen ontplooien op het gebied van nieuwe media.
Daar wordt van tijd tot tijd op gemopperd door "de commerciëlen". Die zouden te maken krijgen met oneerlijke concurrentie. Immers, "belastinggeld" zou hen het leven onmogelijk maken.
Ook in het Verenigd Koninkrijk speelt dat. En hoewel ik weet dat ook lang niet alles wat de BBC doet perfect is, kan ik niet anders dan concluderen dat zulke berichten over pogingen een aanstaande BBC applicatie voor de iPhone tegen te houden spannend zijn. Enerzijds is het een compliment aan de BBC. Ze zijn duidelijk bezig met interessante zaken, anders maakte de concurrentie zich geen zorgen om ze. Maar van de andere kant is het ook spannend omdat als het lukt om dit soort applicaties tegen te houden, het speelveld een stuk kleiner wordt.
Maar een uitspraak zoals deze:
The market for iPhone news apps is a unique and narrow commercial space, which means that the potential for market distortion by the BBC is much greater. This is not, as the BBC argues, an extension of its existing online service, but an intrusion into a very tightly defined, separate market.
Is natuurlijk op zichzelf al goud waard. Het is een "blijf hier weg, want dit is een hoekje dat wij voor onszelf willen hebben. Maakt niet uit dat het om dezelfde informatie gaat, dit is een afzetmarkt waar wij geld willen vangen".
Ik zou het wel als een prestatie-indicator in de contracten van onze publieke omroepen willen hebben: het moet zo zijn dat minimaal X keer per jaar een commerciële partij zich aan je ergert (zonder dat je je andere doelstellingen uit het oog verliest natuurlijk), want pas dan blijkt dat je niet overbodig bent en  juist dan blijkt dat onze belastinggelden goed besteed worden.
(getipt door Teleread)