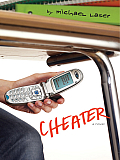 "Karl Petrofsky has spent his years in school trying to hide the As on his papers. He sees himself more as a shy maverick than a geek. When the smoothest guy in high school asks him to aid and abet a ring of hightech cheaters, Karl flatly refuses. But then the tyrannical assistant principal makes an example of a hapless student-and threatens anyone caught cheating with expulsion and an indelible stain on their permanent records. This means war! With a droll narrator and a delightfully intricate plot, this satire of school pressures and modern-day ethics will provide welcome laughs between exams."

(bron)
Ik heb Cheater aangeschaft via Amazon naar aanleiding van mijn post over tips rond digitaal spieken. Het was een impulsaankoop die bij Amazon ($9,99 = €6,75) nog wat gemakkelijker was dan dat het voor de BOL.com prijs (€12,99) zou zijn geweest, maar na het boek in een paar dagen uitgelezen te hebben kan ik het ook voor de Nederlandse prijs aanraden.
Het verhaal is zeker geen handleiding voor hoe je digitaal kunt spieken en de technische middelen die gebruikt worden zijn af en toe een beetje futuristisch. Maar ik merkte dat ik na de eerste 'pagina' al gegrepen was door het verhaal, en wilde weten hoe het verder zou gaan met Karl. Ik zal hier in ieder geval niet meer over de verhaallijn vertellen dan dat je hierboven in de officiële beschrijving van het boek kunt lezen. Dat zou (voor mij in ieder geval wel) een deel van de 'spanning' teniet doen. Jammer eigenlijk dat Michael Laser niet meer van zulke boeken als eBook beschikbaar heeft.
Facts
Titel:
Cheater
Auteur:
Michael Laser
Prijs:
€12,99 voor de downloadversie, €15,99 voor de hardcover versie
Formaten:
EPUB met DRM
Mobipocket met DRM
Hardcover