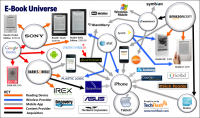 Op Techflash.com hebben ze een poging gedaan om het eBook universum in kaart te brengen. Ze wisten toen ze de kaart publiceerden dat hij (nogal) onvolledig was. Dat kun je ook lezen in de reacties op de kaart. Op de site kun je overigens een PDF-versie van de kaart downloaden met links.
Ondanks de onvolledigheid van de kaart is het complex om te zien hoe complex het eBook-universum aan het worden is, maar het laat ook zien dat er links en rechts al wat consolidatie plaats aan het vinden is, bijvoorbeeld aan de kant van Amazon.
Het zou natuurlijk mooi zijn om de kaart ook uit te breiden met Nederlandse ontwikkelingen. Want ik verwacht hoe dan ook niet dat ze bijvoorbeeld Bol.com en Selexyz.nl op de kaart opnemen en ook BeBook is wat magertjes vertegenwoordigd met slechts één type van hun beschikbare eReaders (nu twee types, binnenkort komt er een derde bij).
Iets om te doen voor Dé Onderwijsdagen. Als ik daar natuurlijk een sessie mag verzorgen, dat is nog niet zeker; je kunt nog tot/met 27 september stemmen.
En mocht je dingen missen in de afbeelding die in een Nederlandse versie zeker aanwezig zouden moeten zijn, laat het dan weten!
Nu ik het toch over het eBook universum heb. Will DeLamater van Kindlepedia en de EdKindle Ning vroeg me of ik hem in contact kon brengen met scholen/docenten/ondersteuners die in Nederland eBook-readers in hun onderwijs inzetten.
Ik had zo geen contactgegevens (ik ken eigenlijk alleen maar pilots die gelopen hebben), dus zet ik de vraag op deze manier maar even door naar jullie.
Reageren kan in het Nederlands hier in de reacties, of rechtstreeks in het Engels.