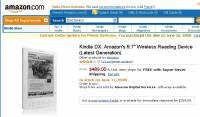 About this post This post is aimed in particular at educators in the US that are skeptical about the Kindle 2 / Kindle DX and Amazon in general.
That is why the post is written in English in contrary to all the other posts on my blog.
I've written it because William DeLamater from Edukindle and the Kindle Educators Group Ning asked me about how I see ereaders affecting education in the Netherlands. William writes "In the US, we have a huge reading gap, especially in the older grades. I suspect that your kids do better. Any thoughts about reading and ebooks would be much appreciated!" Lees verder….