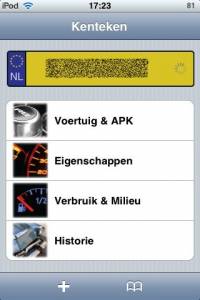 Je kent die super domme reclames van TV wel: SMS een kenteken naar 1234 en je weet zo wat die auto kost. In de kleine letters onder in beeld kun je dan lezen wat het kost: 3 euro per opgezocht kenteken + de kosten van het versturen van een SMS.
Als je een iPhone hebt dan kun je je dat geld besparen. In de Apple Application store is namelijk ook de Kenteken applicatie te downloaden (helemaal gratis).
Bij de SMS dienst had ik geen moeite met het onderdrukken van de nieuwsgierigheid, maar dit wilde ik natuurlijk wel even uitproberen.
En het werkte probleemloos. Je voert een kentekennummer in en dan wordt de beschikbare info over de betreffende auto opgezocht. Uiteraard zaken als merk, type, kleur, vermogen, soort brandstof, massa leeg etc.
Maar ook of hij APK verzekerd is, wanneer hij voor het eerst bij de RDW aangemeld is, wat de cataloguswaarde ongeveer is, het gemiddeld verbruik én of hij als gestolen geregistreerd staat. En allemaal helemaal gratis.
De dagwaarde wordt niet weergegeven en dat zou natuurlijk wel heel handig zijn voor de enige serieuze toepassing van deze applicatie, namelijk als je op zoek bent naar een tweedehands auto.
Want opzoeken hoeveel de auto van de buurman oorspronkelijk gekost heeft en er achter komen dat die ook al heel wat jaartjes oud is, is ook maar eventjes interessant.
[update] Oeps, ik had de link toegevoegd naar "Nummerbord", die applicatie kost 79 cent. Ik heb de link aangepast zodat naar het gratis "Kenteken" verwezen wordt.