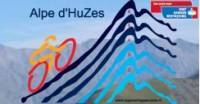 Vandaag is het dan (weer) zover: de dag dat 50 individuele renners en 150 teams de Alpe d'Huez beklimmen om geld in te zamelen voor KWF Kankerbestrijding.
De 100 reacties op mijn blogpost van afgelopen maandag zijn behaald, dus dat geld is binnen.
Wat mij eigenlijk een beetje tegen valt is de mate waarin je de verrichtingen van de rijders op afstand kunt volgen.
Er is een pagina Alpe d'HuZes LIVE. Daar kan ik zien dat de eerste renners al een keer naar boven gefietst zijn. Er zijn blijkbaar ook 4 webcams die via Ustream beelden uitzenden, maar daar 'doet' op dit moment alleen de Finish webcam het van en daar zie je dan zo af en toe een fietser voorbij komen.
Ik snap dat live streamen vanuit het buitenland niet eenvoudig (en goedkoop) te regelen is, maar om de een of andere reden had ik een Google Map/Google Earth toepassing met live positie-info van de deelnemers verwacht of zo, zodat je ze op afstand beter kon volgen (en aanmoedigen).
Daar moet zich toch wel een ICT- of media-bedrijf geroepen voor voelen om de benodigde sponsoring/capaciteit etc. voor te leveren?
Iets voor volgend jaar?
Als je nog meer online live rapportages van de dag tegen komt of weet dan hou ik me aanbevolen voor de verwijzing.
En ook al kan ik ze dan niet real-time volgen, het blijven natuurlijk stuk voor stuk kanjers dat ze daar vandaag die berg op rijden!
[update 8:56] Ik had natuurlijk ook het Twitter-account moeten noemen. Daar kun je (automatisch) de live-blogs van vandaag voorbij zien komen.