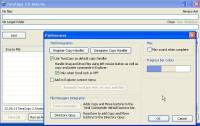 De harde schijf in mijn Freecom Netwerk Mediaplayer doet al een week of twee 'vreemd'. Als ik het apparaat aan zet dan lijkt het alsof de schijf niet wil 'doorstarten', niet op toeren komt. Uitzetten en dan weer aanzetten is dan de enige optie. Geen gezonde schijf dus, en omdat De Western Digital schijf die er in zit (en los aangeschaft was) nog binnen de garantie viel, hoog tijd om hem te laten vervangen.
Ik heb bij Western Digital gebruik gemaakt van hun "Advanced Replacement" optie. Dan sturen ze jou meteen een vervangende schijf toe en moet jij binnen 30 dagen jouw exemplaar opsturen. Daarvoor moet je je Credit Card info doorgeven zodat ze zeker weten dat je hem ook opstuurt (anders boeken ze een stevig bedrag van je Credit Card af).
Omdat de schijf nog niet helemaal onbruikbaar was wilde ik hem niet zomaar versturen ('zomaar' is toch al relatief, want WD stelt heftige eisen aan de wijze van verpakken).
Bestaande data veilig stellen
Eerst heb ik de bestaande data van de schijf gekopieerd naar een andere schijf. De USB-poort van de Freecom is niet snel, de data kwam er met 11MB/sec vanaf en het ging om 330GB in totaal. Dat zou dus even gaan duren. Niet iets wat je gewoon met drag-drop in Windows wil. Want als je kopieer-actie halverwege of ergens tegen het einde afbreekt weet je niet wat je al had.
Ik heb gebruik gemaakt van het gratis Teracopy en dat werkt perfect. Bij Computer!Totaal waren ze er afgelopen november nogal kritisch over. En gezien het feit dat ze nog steeds een bèta van 2.0 beschikbaar hebben in plaats van de definitieve versie kan ik me daar iets bij voorstellen (wisten zij toen echter niet), maar hij werkt probleemloos.
Wil je hem maar eenmalig of af en toe gebruiken dan is er ook een USB-versie, die je dus niet hoeft te installeren.
De kopieeractie brak overigens na 7 uur een keer af, maar omdat Teracopy alle reeds gekopieerde bestanden kan skippen was dat geen probleem en startte ik hem eenvoudig opnieuw op voor de rest van de set.
Lees verder….