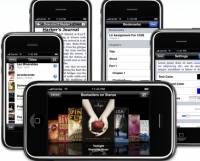 "We are very excited to announce that Lexcycle has been acquired by Amazon.com! It has been an amazing experience to see Stanza grow out of our brainstormed ideas into one of the most downloaded iPhone applications. Throughout this period we have attempted to listen to and innovate for our customers to provide a great ebook reading experience.
We are not planning any changes in the Stanza application or user experience as a result of the acquisition. Customers will still be able to browse, buy, and read ebooks from our many content partners. We look forward to offering future products and services that we hope will resonate with our passionate readers."

(bron)
Oei, Amazon.com grijpt flink om zich heen in de markt van eBook-readers. Nu hebben ze Lexcycle overgenomen. Lexcycle is het bedrijf dat de Stanza eBook-reader (software) uitbrengt. De desktop-reader/converter zijn daarbij niet zo bijzonder. Tenminste, als het gaat om de kwaliteit van de conversies dan geef ik de voorkeur aan Mobipocket of Caliber. Maar, de gratis Stanza-reader voor iPod Touch/iPhone is wel bijzonder.
In tegenstelling tot de Kindle reader op de iPhone van Amazon wordt de Stanza-reader geleverd met koppelingen naar een groot aantal online winkels/verzamelingen met eBooks die je kunt lezen in Stanza. Het downloaden van de boeken is op Stanza daarmee net zo gemakkelijk als op de Kindle. Daar komt bij dat je er ook verwijzingen naar eigen/andere verzamelingen aan kunt toevoegen. Soms zijn de kopieën van boeken die je in die verzamelingen kunt vinden niet allemaal even legaal.
In 2005 nam Amazon MobiPocket over en er zijn veel mensen die denken dat ze dat bedrijf aan een kort lijntje houden sindsdien. Zo heeft MobiPocket nog steeds geen iPhone-reader uitgebracht (daar is Amazon wel actief) terwijl ze wel readers hebben voor veel andere mobiele apparaten.
Goed of slecht, het lijkt me veel te vroeg voor een consolidatie van de markt. Er is nog heel hard concurrentie nodig op het gebied van eBook readers, de distributiemodellen en met name (daar gaat hij weer) de prijs/kosten.
Laten we dus maar hopen dat Amazon er dan in ieder geval iets goeds mee doet.
(getipt door nytimes.com via gottabemobile).