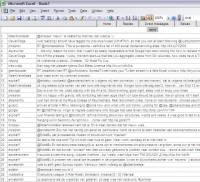 "So, you work at a big corporate, huh? And you're not allowed to use Twitter…
Wouldn't it be awesome if there were a Twitter tool
that looked just like Excel?"

(bron)
Nee, het dient eigenlijk nergens voor. Tenminste, ik kan me niet voorstellen dat er iemand is die SpreadTweet serieus gaat gebruiken. Maar het ziet er wel grappig uit als je Tweets in een spreadsheet worden weergegeven.
De applicatie maakt gebruik van Adobe Air en heeft versies voor Office OSX, Office 2003 (Windows), en Office 2007 (Windows). Het in bezit hebben van de betreffende Office applicatie is (uiteraard) niet noodzakelijk.
(getipt door DownloadSquad)