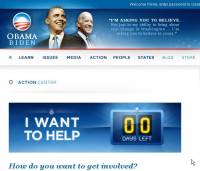 Terwijl wij hier vandaag gewoon een dagje gaan overleggen en vergaderen is het dan eindelijk zover: Election Day has come. De Amerikaanse presidentsverkiezingen 2008 worden vandaag afgerond.
Krijgen de Verenigde Staten hun eerste niet blanke president ooit? Of blijven de Democraten thuis omdat ze denken dat Obama toch al gewonnen heeft en gaat McCain er toch nog met de buit vandoor?
Het zal nog tot vanavond een uur of 9 lokale tijd duren voordat het op zijn vroegst bekend is (als het niet weer veel langer gaat duren). Ik heb nog geen idee waar we vanavond zijn, maar het zal ongetwijfeld ergens zijn met een groot aantal andere Obama stemmers. Ik ben in ieder geval hier bij de IMS kwartaalbijeenkomst nog geen McCain stemmers tegen gekomen.
Ik ga er niet vanuit dat ik gekke dingen ga doen zoals proberen live te streamen vanaf de plek waar ik ben. Niet alleen zou dat afhankelijk zijn van de aanwezigheid van wifi (mobiel streamen vanuit de VS is namelijk net een tikkeltje te duur) maar waarschijnlijk leent de setting zich daar ook niet voor. We zullen zien.
Het wordt hoe dan ook een historische dag/avond.