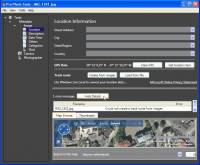 "What does it mean to say, 'Find your photos?' Traditionally that meant literally just finding where particular photos reside on your computer (or a physical location back when film was king). But with new tools and advanced technology, finding your photos can mean finding not just the photos themselves, but finding the exact location where you took a photo. This, in turn, will make it even easier to search for the photos themselves later. Microsoft Pro Photo Tools, a free download available at the Microsoft Pro Photo Web site, enables you to apply location information to your photos so you can always know exactly where they were captured."

(bron)
Als Microsoft ergens ondersteuning voor gaat leveren dan moet het wel mainstream zijn (of worden). Vinden ze zelf ook want het bericht heeft als titel "Geotagging Goes Mainstream"
Nou, wellicht is dat zo, maar Microsoft maakt ook een andere naam waar. Het is namelijk een tool dat nog wat werk vraagt.
De werking is simpel: downloaden (alleen voor Windows uiteraard), installeren, starten en foto's selecteren.
Je kunt een GPS track met coördinaten laden als je die hebt, maar je kunt de foto's ook handmatig op de kaart zetten. Daarvoor gebruikt Microsoft uiteraard Virtual Earth. Standaard heb je daar een 2D weergave, vergelijkbaar met Google Maps. Als je echter op de 3D knop klikt gaat het programma eerst de daarvoor benodigde component installeren. Die functionaliteit is niet alleen vergelijkbaar met Google Earth, de omvang van de download ook. Even wachten dus en de tool moet er voor afgesloten worden. Opnieuw opstarten na installatie lukt niet omdat Firefox en niet Internet Explorer mijn standaard browser is.
Voor het op de kaart plaatsen van de foto's heb je dan een heel klein schermpje beschikbaar. Het plaatsen werkt dan vergelijkbaar met bijvoorbeeld het geotaggen bij Flickr of het (niet gratis) RoboGeo die tegenwoordig heel netjes integreert met Google Earth.
En daarna moet je de velden daarboven gewoon nog zelf invullen. Dus hoewel de tool de coördinaten nu op basis van de kaart kent, worden land, plaatsnaam, straat en regio niet automatisch ingevuld.
Dus nog maar even wachten op de 1.2 of 1.5 versie. Die wordt ongetwijfeld een stuk functioneler en praktischer opgezet.