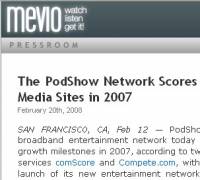 "The podcast world is abuzz – an icon in the podcasting world has passed on as a company. Adam Curry's PodShow is dead, but before you podcasting naysayers start dancing on it's grave, you should know that it's simply a name change (and a site redesign)."

(bron)
Een uitgebreid bericht op Mashable vandaag over de naamsverandering die Podshow.com ondergaan heeft. Ze heten nu Mevio. De eigen persafdeling van Podshow/Mevio vind dat zelf nog niet belangrijk genoeg om te vermelden, het laatste bericht daar is van 20 februari 2008. Slordig.
Ik snap overigens niet hoe een naamsverandering echt iets zou kunnen veranderen/verbeteren aan het imago van het bedrijf. Zelf heb ik de hoofdsite, Podshow.com nooit een plek gevonden waar ik naar toe wilde. De shows die ik wilde volgen haalde ik veel liever op via iTunes.
Wat de betalingen aan de artiesten betreft snap ik toch al niet hoe bijvoorbeeld Cali Lewis haar boterham kan verdienen met een paar Drobo vermeldingen in haar show. Dan moet ze er zo toch heel veel verkopen. En hoe discutabel de werkwijze van Podshow.com dan wellicht moge zijn, ik kan ze natuurlijk niet genoeg bedanken voor het Podsafe Music Network (nog steeds met oude naam en layout op het moment).
Want dankzij die enorme en elke week groeiende hoeveelheid muziek die ik daar kon vinden en gratis kon gebruiken in mijn podcast was dat deel van het samenstellen van de EduKast iets wat leuk en haalbaar was.
Ik hoop overigens dat ze die site gewoon ook even zo laten of anders een goede redirect service installeren want anders gaan er opeens heel wat verwijzingen in de shownotes stuk.