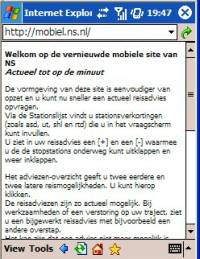 De afgelopen maand of zo heb ik mee mogen testen aan de nieuwe mobiele website van de Nederlandse Spoorwegen. Vandaag ging hij online. Je kunt hem bereiken via http://mobiel.ns.nl/ of http://m.ns.nl/.
Twee belangrijke wijzigingen wat mij betreft:
* Ook voor 'kleine' stations, zoals Deurne, zijn nu de actuele vertrektijden op te vragen. Dat is extra handig, want op zulke stations hangen geen borden die de actuele 'vertraging' (indien van toepassing) weergeven. En tot dit moment moest ik afgaan op de omroepberichten die dan maar heel sporadisch (vanaf afstand) komen. Nu kun je een eventuele vertraging tot op de minuut zien.
* De reisplanner houdt rekening met bekende vertragingen. Als ik richting Utrecht ga bijvoorbeeld moet ik overstappen in Eindhoven. Dat is een overstap met 2 minuten speling. Als mijn trein vanuit Deurne 5 minuten vertraging heeft dan mis ik die aansluiting dus. In plaats van dat ik dan zelf moet gaan uitzoeken wanneer de volgende trein gaat vanuit Eindhoven krijg ik nu direct het aangepaste advies als ik de reis Deurne – Utrecht opzoek.
Mooi. Ik was niet ontevreden over de oude website, maar de huidige is door deze twee toevoegingen een stuk bruikbaarder geworden. Nu nog de mogelijkheid om een reisadvies op te slaan dan is het af. Mobile Internet Explorer kent geen tabbladen dus als ik in de tussentijd even een Tweet wil versturen dan moet ik bij terugkeer het reisadvies opnieuw invoeren.
Overigens, het lekker sobere design is natuurlijk prima. Ik betaal met een GPRS verbinding niet voor de tijd dat ik verbonden ben, maar wel voor elk onnodig gedownload plaatje (dus het aantal bytes).