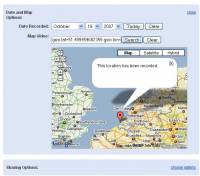 Als je bij YouTube een video toevoegt kun je tegenwoordig heel eenvoudig via een Google Map ook coördinaten toevoegen van de plek waar die video gemaakt is. Dat heb ik ook gedaan bij de clip vanaf het strand van Zoutelande. Maar ik kan nou nergen ontdekken hoe ik ook weer gebruik maak van die informatie.
Handmatig plaatsen
Ik ken wel deze uitleg over hoe je YouTube filmpjes handmatig toevoegt in Google Earth of op een Google Map, maar daar zitten de coördinaten in de KML-informatie, dan maak je dus geen gebruik van de informatie die je bij YouTube ingevoerd hebt.
YouTube layer in Google Earth
Ook op de YouTube layer die standaard in Google Earth zit kan ik de video niet vinden. Wel een aantal video's van de marathon van eerder deze maand. Geen idee of het gewoon een timing issue is, dat de layer niet dagelijks bijgewerkt wordt of zo, of dat ze een kwaliteitsbewaking toepassen op de filmpjes die daar getoond worden. Lees verder….