Dat Google Reader een mobiele versie heeft heb je inmiddels op veel andere plaatsen kunnen lezen. Ik heb in een grijs verleden er ook al eens mee gespeeld, dus het bekijken van het resultaat op mijn Qtek was een kwestie van de URL intypen: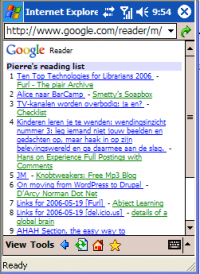 Ik was op de Qtek ingelogd op de mobiele GMAIL-pagina (heel handig overigens), dus ik kreeg direct een overzicht van berichten.
Dit overzicht ziet er ook weer strak uit. Maar, het leek met niet logisch om alle 300+ feeds die ik volg (en die ik bij de vorige test in één OPML-bestand geïmporteerd had) op deze manier te volgen, dus dacht ik: "ik gooi gewoon alle feeds weg en importeer hier alleen die feeds die ik perse ook onderweg wil kunnen lezen/checken". Maar hoe doe ik dat? Want ook in de 'gewone' versie zie ik geen optie om alles ineens te verwijderen, of om grote aantallen tegelijkertijd te unsunscriben.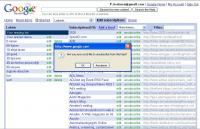 In plaats daarvan moet ik twee keer klikken per feed? Dus 600 keer klikken (met tussentijds wachten op het verversen van het scherm, dat duurt een seconde of drie)? Dat duurt dan zo'n 45 minuten! Ik heb nog geen snellere oplossing gevonden, ken jij die wel, dan hoor ik het graag. Anders blijft de Google Reader Mobile voorlopig even leuk voor anderen.