ClickCaster Beta – Is het dit?
De signup-pagina zegt nog
"Thanks for your interest in ClickCaster! Our site is currently undergoing an invitation-only beta test. If you are interested in being invited to this beta, please visit our beta mailing list page and sign up to be notified when we are accepting new beta testers."

(bron)
maar aanmelden kan blijkbaar op het moment al gewoon zonder uitnodiging. Dat heb ik dus maar gedaan. En het valt nogal tegen.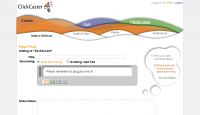 Verder dan een opname-mogelijk voor één spoor gaat de functionaliteit niet. Dus geen mogelijkheid om muziek te mengen met de spraak-track, geen bewerkingsmogelijkheden, niets van dat alles. De geluidsrecorder van Windows biedt dezelfde functionaliteit.
Als je dat vergelijkt met de functionaliteiten die de ODEO-bèta al biedt, dan steekt het daar toch schril bij af. De ODEO-bèta heb ik overigens nog niet kunnen bekijken, op mijn verzoek om toegang heb ik nog geen reactie gehad.