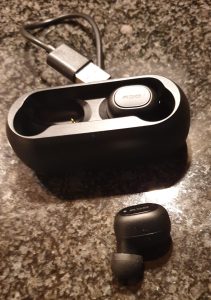 Een tijdje geleden kocht ik via AliExpress een set Bluetooth oortjes met de mooie naam "QCY QS1 T1C Mini Dual V5.0 Draadloze Koptelefoon".
Ik heb geen zin gehad om de bijbehorende claims van 2 uur opladen, 4 uur gebruikstijd te verifiëren. Qua Bluetooth  heeft hij ondersteuning voor: HFP (Handset Profile) , HSP (Hands free Profile), A2DP (Advanced Audio Distribution Profile) voor stereo, AVRCP (Audio / Video Remote Control Profile) zodat je de audio/video ook via de oortjes kunt bedienen (pauze, skippen etc).
Opladen doe je in de case waar je ze ook in kunt bewaren, via een micro-USB aansluiting.
Ik wilde hem testen voor het thuis sporten. Daarvoor is het namelijk fijn als ik de muziek en instructies goed kan horen zonder dat ik met kabels vast zit en zonder dat de rest van het hele huis noodgedwongen moet meeluisteren.
Ik heb daarvoor een aantal lessen als offline videos beschikbaar die ik afspeel vanaf mijn Android telefoon (al dan niet met mirroring naar een groter scherm). Maar bij het bekijken van de video's terwijl de audio naar de Bluetooth oortjes verstuurd werd, viel op dat beeld en geluid niet synchroon liepen. De audio liep achter.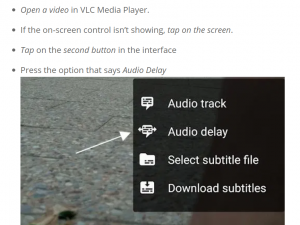 Gelukkig heeft VLC player op Android (weet niet of dat voor iOS of Windows ook zo is) de mogelijkheid om audio en video met elkaar te synchroniseren met de optie "Audio delay" (zie afbeelding).
Het is een beetje zoeken, een waarde instellen en dan kijken en luisteren. Uiteindelijk bleek voor mij een setting van -500ms precies goed. De audio wordt nu een halve seconde eerste te horen gebracht dan oorspronkelijk aangegeven in de video. Daardoor wordt de Bluetooth vertraging opgevangen en lopen ze, bij gebruik van mijn Bluetooth oortjes precies gelijk.
Voor het overige bleven de oortjes prima zitten en hebben ze een uur intensief trainen overleefd.
Met dank aan VLCHelp.com waar je ook uitgebreidere info kunt vinden.