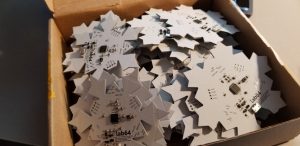 Als ik zeg "je hebt altijd baas boven baas", dan klinkt dat negatief, maar wat ik bedoel in dit geval is dat wat ik ook doe, er altijd wel iemand is die iets doet waarvan ik dan denk "oh, zo zou het ook nog kunnen, dat is wel heel erg cool". En dat bedoel ik dan juist positief. Dan valt er nog wat te leren.
Zo ook bij het bericht dat ik bij Adafruit las over de HoLLiday party bij Lab64 vorige week. Geen sneeuwvlokken uit de lasersnijder of de snijplotter. Nee, zelf ontworpen PCB's in de vorm van sneeuwvlokken die ter plekke gesoldeerd en geprogrammeerd werden. In het bericht heel veel foto's van wat er in ieder geval uitziet als een gezellige activiteit. Het enige dat eigenlijk ontbreekt zijn een aantal gifjes van de resultaten. De sneeuwvlokken zijn capacitive touch (aanraakgevoelig) en (na solderen) voorzien van neopixels en een SAMD21 zoals ook op de Adafruit Feather M0 waar het ontwerp op gebaseerd is (en dat mag, want Adafruit heeft dat ontwerp open source beschikbaar gemaakt).
Het is geen project voor beginners, dat zie je ook als je naar de materiaallijst kijk.  Ze wilden het event geschikt maken voor beginners, daarom hoefde je niet alles zelf te doen als je dat te spannend vond, En als voor jou solderen ook nog nieuw is: de tutorial die ze linken ziet er heel handig uit.
Kortom, een leuke activiteit die de nodige planning kost, maar die (aan de foto's te zien) voor een groep studenten op zijn minst een leuke middag opgeleverd heeft. De vraag is natuurlijk of ze na die sessie echt anders zijn gaan denken over electronica / programmeren, of ze de volgende keer bij een project hier nu eerder ook mee aan de slag zouden gaan….want daar deden ze het voor.
Ik wil tot slot ook wel even ongevraagd de oproep van de mensen van Lab64 herhalen:
This all made possible because Adafruit invests time and resources providing open source designs and software. Please support Adafruit and open-source hardware by purchasing products from Adafruit and documenting your projects!!
Ik heb een paar Adafruit boards in huis zoals de  Circuit Playground Express en de Circuit Playground Developer Edition (nu "Classic"), maar ik moet bekennen dat ze het qua prijs en bestelgemak wel heel veraf liggen van de leveranciers die via AliExpress boards met een ESP8266 of EPS32 aanbieden. Daarom koop ik er niet zo heel vaak (maar documenteer ik wat ik er mee doe zo goed mogelijk).
/ht Adafruit