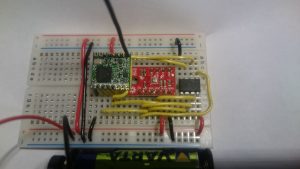 OK, hier wordt ik dus enthousiast van, al is het niet eens echt heel veel goedkoper dan de kant en klare oplossing waar ik vorige week mee geëxperimenteerd heb. Het blijkt namelijk mogelijk om een node met sensor voor het LoRaWAN netwerk / The Things Network te bouwen op basis van een ATtiny85!
Dus, gewoon op basis van die microprocessor, die zo'n 80 eurocent kost als je hem uit China laat komen en die we hier tot nu toe gebruikten om LEDs in een kleine kerstboom aan te sturen of papercircuit kerstkaarten te maken. Diezelfde chip kun je gebruiken als de basis van een meetapparaat waarmee je de lokale temperatuur, vochtigheid en luchtdruk tot kilometers ver door kunt geven.
Ok, ok, je hebt nog een paar andere dingen nodig. Bijvoorbeeld de sensor voor die drie waarden, in dit geval een BME280, die kost zo'n 2,5 euro per stuk. En je hebt natuurlijk ook een chip nodig die het LoRa-deel van de communicatie voor zijn rekening neemt. Er wordt hier gebruik gemaakt van een RMF95  en die kost nog steeds nog een euro of 4-5. Betekent dus dat het meetstation (zonder behuizing, bekabeling, batterijhouder etc) nog steeds zo'n 7-8 euro per stuk kost. Dat is maar een paar euro goedkoper dan die kant en klare oplossing die ik kocht.
Maar in de categorie "omdat het kan" en "omdat het cool is om te zien dat zo'n klein ding zoiets indrukwekkends kan" schreeuwt het natuurlijk om een test (sorry, volgende vakantie duurt nog even). De beschrijving hier gaat nu nog uit van het resetten van pin PB5 zodat het een gewone I/O pin wordt (ipv de reset pin), maar dan kun je daarna niet/slecht heel ingewikkeld de ATtiny85 herprogrammeren. Op het forum wordt al gesproken over een oplossing waarbij dat niet langer nodig is.
Bij de beschrijving staat niet hoe lang deze specifieke constructie mee kan op een set batterijen. Ook dat zou een leuke test zijn. Gaat op het verlanglijstje om te bouwen.