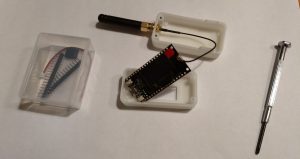 Tot voor kort had ik 2 verschillende LoraWAN nodes in huis: een tweetal LoPy's, waarvan er eentje dienst doet als single channel gateway en een Marvin. Beide zijn niet bijzonder goedkoop, een LoPy met ontwikkelbordje en antenne kost zo'n 50 euro excl. verzendkosten. Een Marvin kost bijna 85 euro excl. verzendkosten. Niet echt sensoren dus die je ergens "kwijt" wilt raken. Terwijl een LoraWAN sensor toch juist vaak op een plek moet komen te hangen die iets verder van alles weg is (zoals sensoren langs een weg die fijnstof meten of zo).
Je kunt zelf een sensor bouwen door een chip te bestellen voor de communicatie, een ESP8266 te kopen, antenne etc en dan solderen. Maar dat kost tijd en extra werk.  De "868MHz/915MHz SX1276 ESP32 LoRa 0.96 Inch Blue OLED Display Bluetooth WIFI Lora Kit 32 Module IOT Development Board for Arduino" zoals de listing op AliExpress voluit luidt, is een voorbeeld van een tussenweg: voor €13,90 incl. verzendkosten heb je een ESP32 + SX1276 chip op een ontwikkelbord. Als je het LCD-scherm dat er dan op zit niet nodig hebt, kun je nog een paar euro besparen en €10,29 betalen incl. verzendkosten. Het is niet mijn eerste node op basis van een ESP32, ook de LoPy maakt daar gebruik van, maar het was wel de eerste die ik via AliExpress bestelde. En ik wist dat het daar bestellen een keerzijde heeft: documentatie is niet altijd voorhanden.
Gelukkig is er ook een heel actief forum bij The Things Network waar een heel topic specifiek voor deze combinatie van ESP32 en SX1276 chip (inclusief het OLED schermpje) ingericht is. En daar hadden sinds oktober 2017 al een paar slimme mensen alles uitgezocht wat ik nodig had om ook mijn exemplaar aan de praat te krijgen. En omdat het een proces is dat ik over een paar maanden zeker niet meer uit mijn hoofd weet te herhalen, documenteer ik het hier weer even.