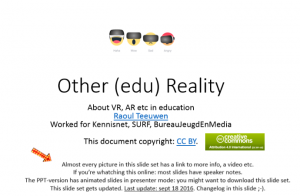 Dat Raoul Teeuwen veel over Virtual Reality (VR) en Augmented Reality (AR) weet, dat wist ik wel. Ik verwijs mensen bv naar zijn overzicht over VR op het SURFnet weblog. Maar de leden van het designteam dat bij ROC De Leijgraaf bezig is met het onderwerp VR wist me vanochtend toch nog te verrassen met een resource die door Raoul gemaakt is en die ik nog níet kende. Het is een enorme PowerPoint slidedeck, niet in aantal, het zijn 25 dia's, maar als je hem gaat downloaden is hij 190MB groot, met daarin een groot aantal voorbeelden, filmpjes, links naar toepassingen met betrekking tot VR en AR.
Wat zoeken online bracht me bij deze toelichting bij bureau jeugd en media over het ontstaan ervan. Je kunt hem dus hier in PowerPoint online bekijken of downloaden en lokaal opslaan. En zoals gezegd, zo ongeveer elk plaatje bevat wel een link naar een online bron, naast natuurlijk de zichtbaar aanwezige links.
Het is natuurlijk wel een bron die steeds weer bijgewerkt kan worden omdat AR en VR twee gebieden zijn die op het moment voortdurend in ontwikkeling zijn, dus regelmatig kijken of Raoul er wat aan toegevoegd heeft is dan aan te raden.
Hier hebben ze ooit de wiki voor uitgevonden Raoul! 😉
Maar zonder gekkigheid is het een aanrader voor als je informatie aan het verzamelen bent rond dit onderwerp.