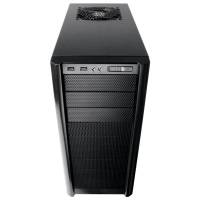 "The majority of people coming to the iPad Pro are coming from a Windows PC," he continues. "This is an amazing statistic. There are over 600 million PCs in use today that are over five years old. This is really sad. These people could really benefit from an iPad Pro."
Uitspraak van Phil Schiller, Senior VP of Worldwide Marketing van Apple na ongeveer 46 minuten tijdens het Apple event deze week.
Ik moest even in mijn geheugen graven, lees: op mijn weblog zoeken om te achterhalen hoe oud de desktop is die op mijn studeerkamer staat. Hij is iets meer dan zes jaar oud. Ja, er heeft in die tijd inderdaad één hardwarematige upgrade plaats gevonden. Ik heb een SSD-schijf van 250 GB geplaatst voor het besturingssysteem. Dat is naast de 2 x 1TB Harde schijven die er al in zaten. En dat besturingssysteem is van Windows 7 via Windows 8 en 8.1 inmiddels bijgewerkt naar Windows 10.
En weet je wat? Ik heb nog steeds geen reden om hem te vervangen. Ik heb nog steeds de twee bijbehorende schermen die ideaal zijn als ik thuis aan meerdere documenten zit te werken, alleen het draadloze toetsenbord begint na al die tijd te verslijten. Bij CNET lees ik dat ik daarmee toch nog wel ruim onder het gemiddelde in Oost Europa of Latijns Amerika zit, dus het valt nog mee.
Qua kosten liggen de systemen niet eens zo ver uit elkaar. Wil ik een iPad Pro 9,7 inch met 256 GB opslag wil kopen, dan kost dat € 1.049,- zónder de benodigde €179 voor het smart keyboard, €109 voor de pen en andere accessoires zoals kabels om bv geheugenkaartjes te kunnen lezen (voor mij essentieel gezien de hoeveelheid video die ik nu op mijn systeem bewerk). Toegegeven, ik heb €400,- extra uitgegeven voor de 2 schermen bij mijn desktop, maar dat levert dan ook wel wat meer op dan 9,7 inch beeldformaat (zonder touch, dat dan weer wel).
Maar eigenlijk doet het er ook niet toe. Ik snap dat dit gewoon Apple marketing is, wilde echter ook even laten weten dat ik me helemaal niet zielig voel. Zeggen dat je mensen wil helpen omdat je ze zielig vindt door ze een product van ruim duizend euro te verkopen, dat vind ik dan weer een beetje zielig.