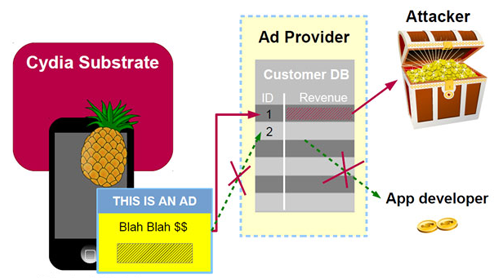 Uit de categorie "ik heb geen enkele mogelijkheid om het te verifiëren en er zijn ook mensen die er belang bij hebben om dit op te blazen" komt dit bericht:
In April this year, an iOS malware called Unflod was infecting jailbroken devices and stealing the Apple ID and password of the users. It is possible to have your jailbroken iOS device infected if you download pirated tweaks from pirated repos. Now, there's a new malware called AdThief, which has infected about 75,000 jailbroken devices so far.
AdThief, also known as spad, was discovered by security researcher Claud Xiao in March this year. This is an iOS malware that is only found in jailbroken devices and it hijacks advertisement revenues and redirects them to the attacker.
Natuurlijk, het klinkt logisch. D.w.z. ik kan me voorstellen dat het kan. De repositories die je zelf kunt toevoegen als je een jailbreak hebt uitgevoerd, worden niet door Apple of een andere per definitie betrouwbare instantie gecontroleerd. Het is dus mogelijk dat er niet helemaal veilige bij zitten. Zeker als het gaat om repositories die gehackte versies van normaal gesproken betaalde apps. aanbieden. Als mensen die apps. installeren dan 'weten' ze al dat ze op de meer duistere plekken van het internet en de hele jailbreak scene aan het shoppen zijn.
Je zou zo'n bericht als dit kunnen aangrijpen om te roepen dat jailbreaken *daarom* gevaarlijk of onveilig is. Maar dat gaat natuurlijk te ver. Je moet wel gezond verstand gebruiken en niet zomaar alles installeren. En gehackte versies van betaalde apps. kun je beter helemaal links laten liggen. Je vindt een betaalde app. ofwel het geld waard ofwel jet gaat op zoek naar een alternatief.
(getipt door ijailbreak.com)