Zeker nadat ik gisteren begrepen heb dat het 3D-printen van voedsel er aan zit te komen, maar soms toch ook wat meer technische kunstjes vereist (vloeibaar stikstof bij chocolade of koele temperatuur bij nutella), vind ik het Kickstarter aanbod van de Foodini een beetje 'to good to be true'.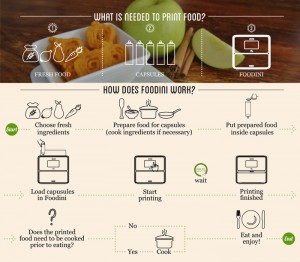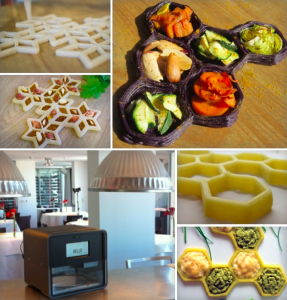 Toegegeven, de foto's van de resultaten zien er prima uit. Maar ik vrees dat ook hier de wetten van de zwaartekracht van invloed zijn op veel van de prints. D.w.z. je zult een grondstof van exact de juiste samenstelling moeten krijgen zodat hij A) uit de spuitbus komt, B) niet uitloopt en C) niet inzakt als je meer dan een paar lagen op elkaar print. Een paar van de pasta-achtige foto's lijken hier aan te voldoen. Ik hoop echter dat dit ook daadwerkelijk eetbare pasta was en niet alleen iets voor de foto.
Daarnaast lijkt het productieproces zeker zo omvangrijk als 'gewoon' koken. Je moet het geheel eerst zo maken dat het in de cartridge kan, dan printen en indien nodig toch nog gewoon koken of bakken.
De reacties op het product (dit zijn mensen die minimaal 1 USD toegezegd hebben zodat ze een opmerking konden plaatsten!) zijn ook verre van positief. Niet gek natuurlijk, $999,- voor de 3e batch (januari 2015), $1.200,- voor de 2e batch (januari 2015) en $2.000,- voor de eerste modellen (oktober 2014).
Ik denk dat het project zijn doel ook nog wel zal gaan halen (nu bijna op de helft van het $100.000,- doel) en ik vrees dat die backers nooit een printer krijgen die hen echt veel verder zal helpen.