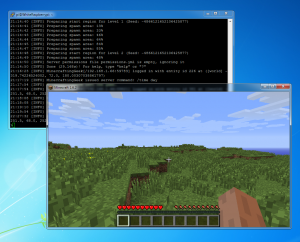 Kijk, daar had ik me toch nog wel een beetje in vergist. Toen ik gisteren schreef over de mogelijkheid om een Minecraft Server op een Raspberry Pi te installeren wist ik niet of de kinderen daar warm of koud van zouden worden. Nou, het liet ze zeker niet koud. Want, ja, online spelen op verschillende Minecraft servers die anderen in de lucht gebracht hebben, dat kennen ze wel.
Maar een eigen server, waar je zelf operator bent en waar je zelf plugins op kunt installeren en (eventueel?) ook anderen van buiten toegang toe kunt geven. Dat hadden ze nog niet eerder kunnen doen. Daar wilden ze dus wel heel erg graag mee spelen. 🙂
Het installeren van een server is gelukkig redelijk eenvoudig. Maar het tweaken en lekker draaien krijgen ervan is op een Raspberry Pi toch nog wel een uitdaging. Het is nou eenmaal gewoon eigenlijk een té licht machientje. Ik heb tot nu toe gespeeld met de server-versie van Spigot en die van Bukkit. Ik ben er nog niet helemaal uit welke van de twee stabieler is. Ik heb sowieso de Raspberry Pi maar weer aan bekabeld internet gehangen in plaats van Wifi om in ieder geval geen bandbreedte problemen te krijgen.
Maar ook met milde overclocking, het uitzetten van de Nether en het herverdelen van het geheugen op mijn Raspberry Pi met 512MB (dit was #3 die ik kocht, die had al de dubbele hoeveelheid geheugen) heeft de server het (gezien de berichten in de logs) zwaar.
De stappen worden duidelijk uitgelegd in dit bericht of in dit filmpje. Ik gebruik screen (beschreven in de tekst bij het filmpje) om de sessie 'los te koppelen' zodat de server blijft draaien als ik de SSH-verbinding verbreek.
Ik heb de NoSpawnChunks plugin al draaien, daar komt in ieder geval Worldguard (in combinatie met WorldEdit).
Nog even een werk in uitvoering dus, en daarom ook nog niet vanaf buiten open gezet. Als we zover komen dat we het beheer onder de knie hebben, dan laat ik de URL + poort nog wel even weten.
Iemand die dit leest die nog andere verstandige tips, absoluut noodzakelijke plugins etc. heeft? Ik hoor het graag!