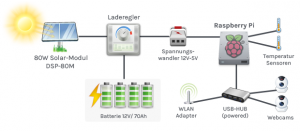 De zes pimpelmees jongen die afgelopen weken nog luidkeels te horen waren vanuit hun kastje bij ons in de tuin zijn helaas overleden. Het was wel weer een reden om eens rond te kijken naar opties om zo'n kastje uit te rusten met een of meerdere camera's.
Er zijn op dit moment een tweetal blogs die ik volg op dat gebied: Astro-Beano, een weblog uit Schotland. Daar kun je nu een nestkastje met pimpelmeesjes volgen. Helemaal uitgebreid is echter de site Early Bird uit Zwitserland. Hij is in het Duits, maar als je een reden zou moeten hebben om je Duits af te stoffen dan is het deze website wel.
Hier wordt gebruik gemaakt van een Raspberry Pi die 2 camera's en 2 temperatuursensoren 'aanstuurt'. Je kunt dus zien hoe warm het buiten en binnen het kastje is, en er hangt een camera in de kast en eentje erbuiten. Het geheel is heel "groen". Er wordt gebruik gemaakt van een zonnepaneel om een accu op te laden waar het geheel op draait. Niet heel goedkoop, het paneel kost een euro of 80, de omvormer een euro of 30 en dan moet je nog de accu kopen voor dik 60 euro. Dat zijn bijna 200 euro die je natuurlijk nooit terug verdiend met zo'n licht computertje als de Raspberry Pi. Maar goed, het gaat om het idee. Zie deze pagina voor meer uitleg.
De site maakt ook gebruik van de mogelijkheid om automatisch video's te laten produceren van de timelapse foto's die gedurende de dag gemaakt worden. Die video's worden dan ook weer automatisch aan YouTube toegevoegd. Ik heb dat principe inmiddels ook werkend, ik ben even aan het afwachten of de uploads ook komende nacht probleemloos werken, dan zal ik de werking documenteren.
Lees verder….