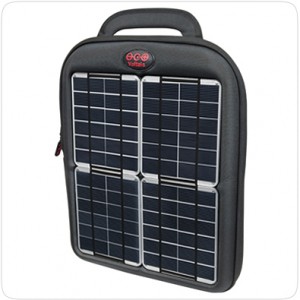 Voor een deel van Nederland is dit weekend de vakantie begonnen, voor een ander deel begint het komend weekend (de rest moet nog even wat langer doorwerken). Er zullen dit jaar ongetwijfeld heel wat iPads mee gaan op vakantie.
Nou mag je zo'n iPad eigenlijk niet te lang in de zon gebruiken (dan wordt hij te warm), maar deze tas van Voltaic kan juist wel heel goed tegen de zon. Hij gebruikt die zon namelijk om een ingebouwde accu op te laden waarmee je je iPad op kunt laden.
Ik moet bekennen dat mijn eerste ervaring met kleine draagbare zonnecellen niet echt denderend was, dus ik ben heel benieuwd of deze tas de belofte van "1 uur zon = 1 uur videokijken" waar kan maken in de praktijk. Is dat onder ideale omstandigheden? Met de tas plat in de volle zon? Of ook als je de tas gewoon buiten mee draagt? Gewoon even aanschaffen om te testen is er nou ook niet echt bij, ook al verzenden ze rechtstreeks naar Nederland. Hij kost $299,- en daar komen dan nog $75.90 verzendkosten, de BTW over dat totale bedrag en de inklaringskosten (12,50 euro) bovenop. Dan kom je op zo'n 320 euro uit.
Maar ik hou me natuurlijk aanbevolen als iemand de tas of een soortgelijk product in de praktijk wil laten testen!
Hier kun je de tas gedemonstreerd zien in een filmpje.
(getipt door ipadinfo.nl)