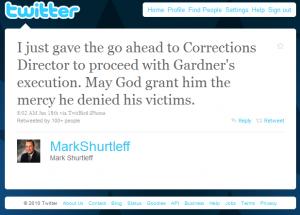 Het was een tweet die voor de nodige beroering zorgde: de Procureur-generaal van Utah Mark Shurtleff stuurde een aantal tweets de wereld in voorafgaande aan de executie van Ronnie Lee Gardner door een vuurpeloton.
Ik had de tweet zelf nog niet gezien totdat ik er een bericht over tegen kwam op het Cool Cat Teacherblog en daarna ook bij BBC News. Vicki Davis vraagt zich af hoe we dit met onze studenten moeten bespreken en is van mening dat het niet op Twitter thuis hoort: "Whether it was "too far" or not, I think it was in very poor taste. I think this is a poor use of Twitter or any type of media, but particularly Twitter. If it cannot be explained in 140 characters, it doesn't really belong in a Tweet, does it?".
Ik moet zeggen, los even van de vraag of de doodstraf nu wel of niet zinvol, effectief, moreel verwerpelijk is, vraag ik me af of er nou zo heel veel grenzen zijn wat betreft het gebruik van Twitter voor dit soort zaken. Als de aankondiging op een "gewone" website gedaan was, was het dan toepasselijker of meer op zijn plaats geweest? De tweet zelf was inhoudelijk zo te zien heel zorgvuldig gekozen. De discussie over de doodstraf en wijze van uitvoering die er daarna op volgde via Twitter lijkt me bij uitstek iets waar (ook) Twitter geschikt voor is.
Ook al heb ik niet de behoefte me dan in de discussie zelf te mengen, ook geen behoefte om de tweets van de betreffende Procureur-generaal te volgen, lijkt me dat het inherent is aan het open karakter van Twitter dat er conversaties zullen plaats vinden die alle aspecten van onze samenleving omvatten. Dus ook de doodstraf.